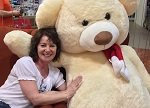 My name is Helen and I would like to welcome you to my site EmbroideryMachineCritics.com. I have been interested in embroidery all my life and in fact, I learned embroidery from my grandmother many years ago as a child and have continued doing embroidery in my spare time I have ever since.
Due to time constraints, I recently started looking at embroidery machines as a means to speed up the whole process and produce my own designs for sale online in the future. While doing embroidery by hand is great it is slow and difficult to make any money from if you have limited time. As I do my own designs an embroidery machine can produce exact copies of my designs very quickly so I can concentrate on designing new exciting patterns.
After doing a good deal of research to find the right machine, I decided to create this site to help others find the perfect embroidery machine.
I hope you find this site useful. If you have any question, you can contact me here.