The Brother SE400 is a good choice as it is a combines sewing and embroidery machine with a lot of great features. It's very affordable and can do sewing, embroidery, and quilting. You can even use it to digitize designs to create your own unique output.
Here are a couple of videos showing you how to use the Brother SE400. Worth the watch if you are a beginner sewer.
VIDEO ONE:
VIDEO TWO: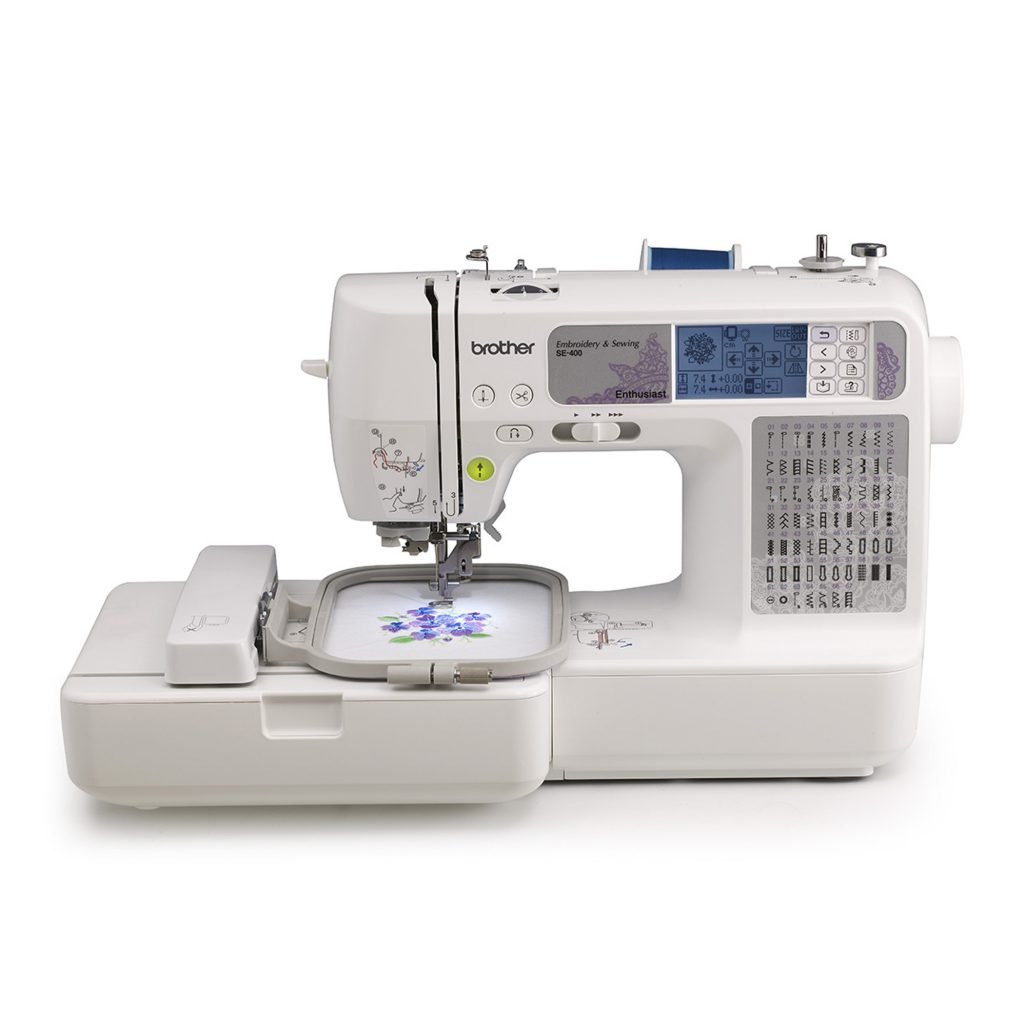 Brother SE400
For a business producing commercial embroidery a more robust machine with all the bells and whistles will be required. For the latest prices and the complete range of embroidery machine visit AmazonLooking for the best embroidery machine for patches and badges? Well, you have come to the right page. The simple fact is the most modern embroidery machine will be capable of doing patches and badges so you will not need a dedicated machine.
A sewing machine with an embroidery attachment will also suffice for simple patches in most cases. If you are lucky enough to already have an embroidery machine then you more than likely already know this.
The best embroidery machine for patches and badges
Of course, it all depends on how many badges you are going to be making and how quickly you need them made. If you are only going to be making a few badges for your kids or even a local club or school, most cheap home embroidery machines will get the job done.
But if you are planning to produce patches or badges on a commercial basis where you are making hundreds or possibly thousands at a time, then the best embroidery machine for patches will be a more commercial type machine. Even if you are starting a business offering an embroidery service you can still start out with a cheaper home embroidery machine and then upgrade to a more industrial model later as business increases.
The better commercial embroidery machines will also allow you produce thousands of patches very quickly. Not only are they fast but they can stitch a number of different colors at a time. This is essential if you getting big orders as your customers will expect prompt delivery.
Also if you are doing commercial work you will need a machine with the ability to create custom designs as most of your customers will be looking for unique patches and badges. With modern computerized embroidery machines, it is easy to create your own designs with the software included in the machine.
You can also download thousands of designs from the internet and modify them to your customer requirement again using the software supplied by the manufacturer.
In conclusion, if you are only going to be doing occasional embroidery or small batches them a basic model will be best embroidery machine for patches.